We are committed to maintaining our high levels of performance across the organisation.
We provide comprehensive performance data to managers across the organisation and to external stakeholders. On a monthly basis, middle and senior managers review a performance tracker and address any areas of underperformance.
We also report our performance quarterly to council members as part of the council's performance reporting framework.
If you would like more information about how our performance is measured, select the following links.
Our targets and measures
Priority
Measures
Actuals
Aim
Year to date
2013/14
2014/15
2015/16
2016/17
2017/18
2019/20
2019/20
The public is kept safe (measure definition)
% 24-hour Retained Duty System (RDS) appliance availability at key stations
New measure
TBC
90
93
90
85.89
Wholetime appliance availability
New measure
98
97
98
100
98.11
Safe and Well visits to vulnerable members of the community
New measure
4,039
N/A
N/A
Community safety contacts
New measure
43,849
40,000
19,383
Regulatory Reform (Fire Safety) Order 2005 risk-based fire protection inspections conducted
NA
297
532
599
513
N/A
N/A
% life risk and property emergency calls handled within 90 seconds
NA
72
81
79
79
85
88.75
% times an appliance arrives at life risk or property incidents within agreed response standards
NA
81
75
73
68
75.00
66.37
% times a 2nd appliance arrives at life risk or property incidents within agreed response standards
NA
86
78
75
76
90.00
74.47
Incidents
2,613
2,659
3,306
3,076
3,463
3,494
1409
Accidental dwelling fires
156
164
147
146
143
150
59
Fire-related deaths
1
2
0
3
2
0
0
Fire-related injuries
22
22
21
14
23
19
10
Road Traffic Collision (RTC) incidents involving one or more extrication
117
162
142
113
117
124
N/A
Firefighters are kept safe (measure definition)
Reporting of Injuries, Diseases and Dangerous Occurrences Regulations (RIDDOR) reportable accidents
8
9
2
3
5
0
0
Firefighter injuries
48
49
43
34
32
0
14
Major training events/exercises undertaken at risk premises
NA
14
33
17
17
15
9
% Competency level for wholetime and on RDS firefighters in 9 core skills (Key Data Set)
New measure
96
100
98.25
Average days sickness per Full-Time Equivalent
6.6
6.23
7.81
8.31
10.22
9.5
2.98
We do our very best (measure definition)
Revenue outturn – % Forecast variance to budget (Key Data Set)
2.80
-1.96
-3.50
-6.96
1.52
0-2
0.94
Capital Programme – % Variance to budget
0.30
-1.04
-16.43
0%
8.84
Less than 0
-39.00
Structured/formal debriefs and incident command reviews
New measure definition from 2018/19
25
19
Incident data
The summary below illustrates incident levels attended over the last five years.
Total incidents attended
The total number of incidents that we attended last year was 3914, which is 47.2% more than five years ago. An increase in incidents has been experienced nationally and locally this year due to the hot, dry period in early summer last year.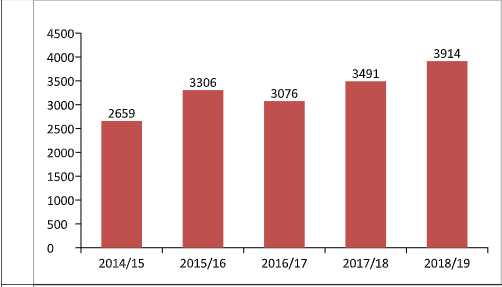 Property and vehicle fires
There has been a 1.6% increase in fires in property and vehicles over the five-year period.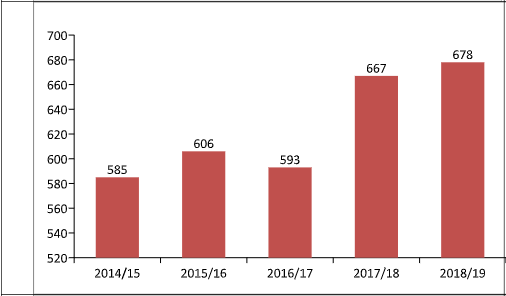 Road traffic collisions
A change in the mobilising policy in 2014/15 resulted in the service providing assistance at more Road Traffic Collisions. Last year we attended 353 such incidents, of which 108 needed extrications.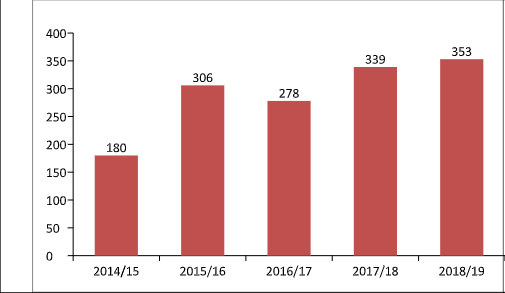 Accidental dwelling fire
There was an increase in accidental dwelling fires last year compared to the previous year of 11.8% with 160 incidents attended, levels remain comparable to 5 years ago.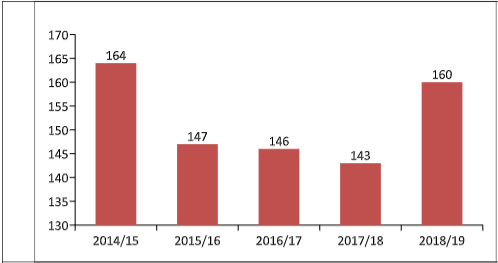 Deliberate fires
The total number of deliberate fires have reduced by 5.2% compared to last year and a decrease of 21% over the five-year period.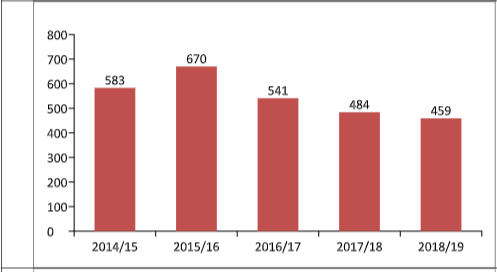 Special services
The number of special services attended has risen by 170% across the five-year period due to an attendance policy review.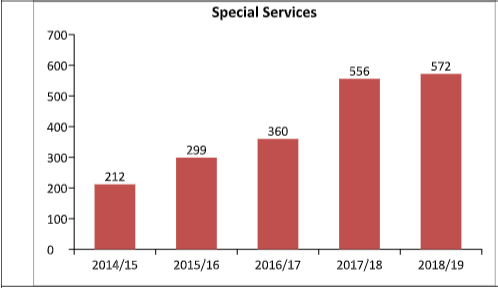 Fire-related injuries and preventable fire-related deaths
Last year there were 20 fire-related injuries recorded, these levels remain consistent across the 5 year period. There were 6 reported fire-related deaths last year.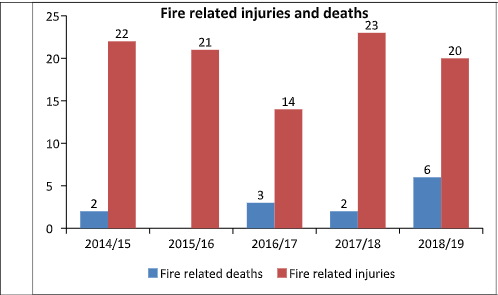 Non-domestic fires
Levels of fires in non-domestic properties remained comparable to the previous year and there has been an increase of 1.2% across the 5 year period.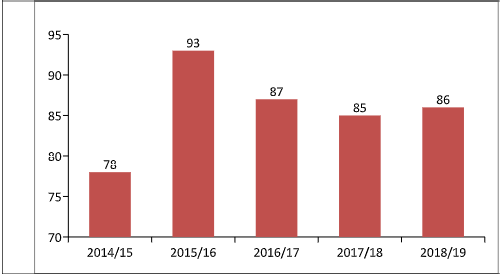 False alarms
This category includes all false alarms caused by good or malicious intent and by automated false alarms. Over the last five years, there has been a 41.7% increase in the total number of false alarms attended.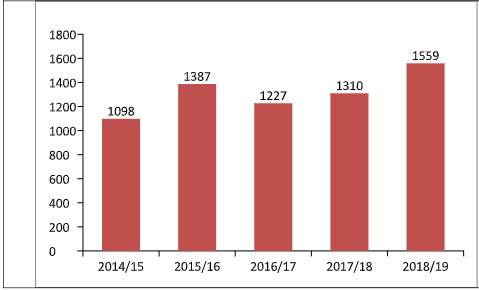 Outturn reports
At the end of each year, we produce an outturn report which details all the achievements over the previous year. You can read these reports on the links below.
Benchmarking
The Government collects data on all fire services and then provides comparison tables of data. We use this information to benchmark performance against key measures.