Here are a selection of maps of bus routes covering the whole county and its main towns. The maps are updated as regularly as possible but please check with us before making any journeys as changes can occur.
Public transport maps by area in PDF (updated February 2020)
Atherstone (PDF, 68 KB)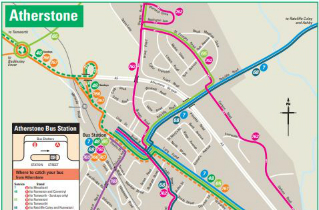 Kenilworth (PDF, 67 KB)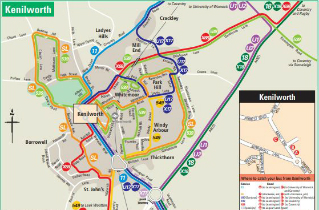 Leamington Spa (PDF, 121 KB)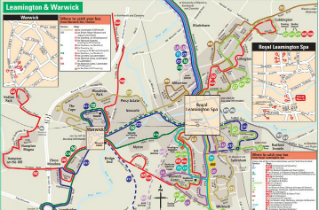 Nuneaton (PDF, 146 KB)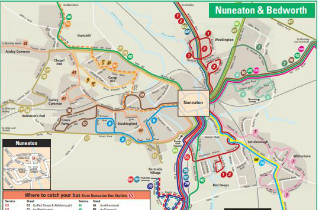 Rugby (PDF, 105 KB)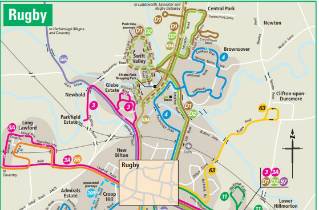 Stratford-upon-Avon (PDF, 68 KB)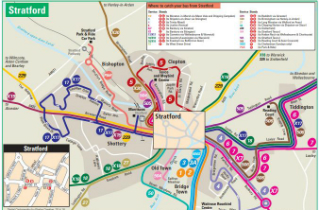 Warwickshire County (PDF, 4.3 MB)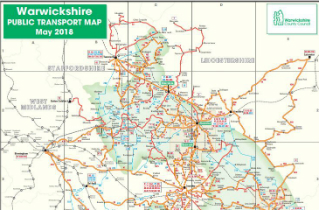 All services either terminate at or pass through, the bus station in Warwick.
Public transport map and bus timetable stockists
| Stockist | Address | Post Code | Telephone |
| --- | --- | --- | --- |
| Alcester Town Council – Globe House | Globe House, Priory Road, Alcester, Warwickshire | B49 5DZ | 01789 766084 |
| Alcester Library | Priory Road, Alcester, Warwickshire | B49 5DZ | 0300 555 8171 |
| Alveston Youth Hostel | Hemmingford House, Alveston, Stratford-upon-Avon, Warwickshire | CV37 7RG | 0845 371 9661 |
| Ansley Post Office | 148 Birmingham Rd, Ansley, Nuneaton, Warwickshire | CV10 9PQ | 024 7639 2223 |
| Atherstone – North Warwickshire Borough Council | South St, Atherstone, Warwickshire | CV9 1DE | 01827 715341 |
| Atherstone Library | Long St, Atherstone, Warwickshire | CV9 1AX | 0300 555 8171 |
| Baddesley Ensor Social Club | 50 New St, Baddesley Ensor, Warwickshire | CV9 2DN | 056 0343 2167 |
| Bedworth Library | 18 High St, Bedworth, Warwickshire | CV12 8NF | 0300 555 8171 |
| Bidford-on-Avon Library | Bramley Way, Bidford-on-Avon, Alcester, Warwickshire | B50 4QG | 01789 778289 |
| Bidford-on-Avon Morgans News | 37 High Street, Bidford-on-Avon, Alcester, Warwickshire | B50 4BQ | 01789 772221 |
| Bidford-on-Avon Post Office | 30 High Street, Bidford-on-Avon, Alcester, Warwickshire | B50 4AA | 0845 722 3344 |
| Blockley Post Office | Old Coach House, Post Office Square, Blockley, Gloucestershire | GL56 9BB | 01386 701411 |
| Brinklow Post Office | 23 Broad Street, Brinklow, Rugby, Warwickshire | CV23 0LS | 0345 611 2970 |
| Broadway Tourist Information Centre | Unit 14, Russell Square, High Street, Broadway, Worcestershire | WR12 7AP | 01386 852937 |
| Bulkington Library | School Road, Bulkington, Nuneaton, Warwickshire | CV12 9JB | 024 7649 1815 |
| Chipping Campden Tourist Information Centre | Old Police Station, High Street, Chipping Campden, Gloucestershire | GL5 6HB | 01386 841206 |
| Coleshill Library | 19a Parkfield Rd, Coleshill, Birmingham, West Midlands | B46 3LD | 0300 555 8171 |
| Coleshill Parkway Station | Off Station Rd, Coleshill, Birmingham, West Midlands | B46 1DA | 0870 060 4416 |
| Coleshill Town Council | High St, Coleshill, Birmingham, West Midlands | B46 3BG | 01675 463326 |
| Curdworth Post Office | 33 Coleshill Rd, Curdworth, Sutton Coldfield, West Midlands | B76 9EX | 01675 470259 |
| Dodwell Park | Evesham Rd, Stratford-upon-Avon, Warwickshire | CV37 9SR | 01789 204957 |
| Dordon Library | Roman Way, Dordon, Tamworth, Warwickshire | B78 1RD | 01827 892519 |
| Dunchurch Library | School Street, Dunchurch, Rugby, Warwickshire | CV22 6PA | 0300 555 8171 |
| Ettington Post Office and Stores | 29 Banbury Rd, Ettington, Stratford-upon-Avon, Warwickshire | CV37 7SN | 01789 740657 |
| Galley Common Post Office | 1-3 Hickman Rd, Galley Common, Nuneaton, Warwickshire | CV10 9NQ | 0845 611 2970 |
| Gun Hill Post Office | 1 Nuneaton Rd, Gun Hill, Arley, Warwickshire | CV7 8HB | 01676 540422 |
| Hampton Magna Post Office | 1 Slade Hill, Hampton Magna, Warwick, Warwickshire | CV35 8SA | 01926 494217 |
| Harbury Library | The Wight School, High Street, Harbury, Warwickshire | CV33 9HW | 01926 258776 |
| Hartshill Post Office | 33 Church Rd, Nuneaton, Warwickshire | CV10 0LT | 024 7639 2252 |
| Henley-in-Arden Library | 115 High street, Henley-in-Arden, Warwickshire | B95 5AU | 01564 794885 |
| Kenilworth Library | Smalley Place, Kenilworth, Warwickshire | CV8 1QG | 0300 555 8171 |
| Kingsbury Post Office | 5a Jubilee Court, Kingsbury, Tamworth, Warwickshire | B78 2LL | 0845 611 2970 |
| Leamington Spa Library | Royal Pump Rooms, The Parade, Leamington Spa, Warwickshire | CV32 4AA | 01926 742722 |
| Leamington Stagecoach Travel Shop | 46 Regent St, Leamington Spa, Warwickshire | CV32 5EG | 01604 676060 |
| Leamington Spa Tourist Information Centre | Royal Pump Rooms, The Parade, Leamington Spa, Warwickshire | CV32 4AA | 0871 978 0840 |
| Lighthorne Post Office | Village Hall, Bishops Hill, Leamington Spa, Warwickshire | CV35 0AR | 0845 611 2970 |
| Lillington Library | Valley Rd, Lillington, Leamington Spa, Warwickshire | CV32 7SJ | 01926 422875 |
| Long Itchington Post Office | Church Road, Long Itchington, Southam, Warwickshire | CV47 9PW | 01926 812315 |
| Long Lawford Post Office | 149 Townsend Lane, Long Lawford, Rugby, Warwickshire | CV23 9DF | 01788 547174 |
| Long Marston Post Office | 14 Jacksons Orchard, Main Street, Long Marston, Warwickshire | CV37 8RU | 0845 722 3344 |
| Lower Brailes – The Village Store | High St, Lower Brailes, Banbury, Oxfordshire | OX15 5HN | 01608 685201 |
| Lower Quinton Post Office | 2 St Swithins Drive, Lower Quinton, Stratford-upon-Avon, Warwickshire | CV37 8SB | 01789 720572 |
| Mickleton Post Office | High Street, Mickleton, Chipping Campden, Gloucestershire | GL55 6RX | 01386 438273 |
| Moreton in Marsh Tourist Information Centre | Moreton Area Centre, High Street, Moreton-in-Marsh, Gloucestershire | GL56 0AZ | 01608 650881 |
| Napton Marina | Tomlow Rd, Napton, Warwickshire | CV47 8HX | 01926 813644 |
| Napton Post Office | New Street, Napton, Southam, Warwickshire | CV47 8LR | 01926 812488 |
| Newbold-on-Avon Post Office | 19 Main Street, Rugby, Warwickshire | CV21 1HH | 01788 543104 |
| Newbold-on-Stour Post Office | Stratford Rd, Newbold-on-Stour, Stratford-upon-Avon, Warwickshire | CV37 8TS | 01789 450317 |
| Nuneaton Library | Church St, Nuneaton, Warwickshire | CV11 4DR | 024 7638 4027 |
| Nuneaton Stagecoach Depot | Newtown Rd, Nuneaton, Warwickshire | CV11 4HR | 01604 676060 |
| Polesworth Library | Bridge St, Polesworth, Tamworth, Warwickshire | B78 1DT | 0300 555 8171 |
| Preston-on-Stour Post Office | The Village Shop, Preston-on-Stour, Warwickshire | CV37 8NG | 01789 459366 |
| Radford Semele Post Office | 41 Lewis Road, Radford Semele, Leamington Spa, Warwickshire | CV31 1UQ | 01926 470998 |
| Rugby Borough Council | Town Hall, Evreux Way, Rugby, Warwickshire | CV21 2RR | 01788 533533 |
| Rugby College | Technology Drive, Rugby, Warwickshire | CV21 1AR | 0300 456 0047 |
| Rugby St Cross Hospital | Barby Road, Rugby, Warwickshire | CV22 5PX | 01788 572831 |
| Rugby Stagecoach Depot | Railway Terrace, Rugby, Warwickshire | CV21 3HS | 01604 676060 |
| Rugby Visitor Centre | Rugby Art Gallery, Little Elborow Street, Rugby, Warwickshire | CV21 3BZ | 01788 533217 |
| Ryton-on-Dunsmore Co-Op | High St, Ryton-on-Dunsmore, Warwickshire | CV8 3FH | 024 7630 2691 |
| Shipston-on-Stour District Council | New Clark House, West Street, Shipston-on-Stour, Warwickshire | CV36 4HD | 01608 662180 |
| Shipston-on-Stour Library | 12 Church St, Shipston-on-Stour, Warwickshire | CV36 4AP | 0300 555 8171 |
| Shrewley Post Office | 97 Shrewley Common, Warwick, Warwickshire | CV35 7AN | 01926 842310 |
| Snitterfield Stores | Smiths Lane, Snitterfield, Stratford-upon-Avon, Warwickshire | CV37 0JY | 01789 730007 |
| Southam Library | 9 Pendicke Street, Southam, Warwickshire | CV47 1PF | 0300 555 8171 |
| Stockton Post Office | The Square, Stockton, Rugby, Warwickshire | CV47 8JN | 01926 812491 |
| Stratford-upon-Avon College | The Willows North, Alcester Rd, Stratford-upon-Avon, Warwickshire | CV37 9QR | 01789 266245 |
| Stratford-upon-Avon District Council | Elizabeth House, Church St, Stratford-upon-Avon, Warwickshire | CV37 6HX | 01789 267575 |
| Stratford-upon-Avon Library | Henley Street, Stratford-upon-Avon, Warwickshire | CV37 6PZ | 0300 555 8171 |
| Stratford-upon-Avon Tourist Information Centre | Bridgefoot, Stratford-upon-Avon, Warwickshire | CV37 6GW | 01789 264293 |
| Studley Library | Studley Village Hall, High Street, Studley, Warwickshire | B80 7HJ | 01527 853753 |
| Tysoe Post Office | Main St, Tysoe, Warwick, Warwickshire | CV35 0SE | 01295 680632 |
| Warwick District Council | Riverside House, Milverton Hill, Leamington Spa, Warwickshire | CV32 5HZ | 01926 410410 |
| Warwick Racecourse | Hampton Street, Warwick, Warwickshire | CV34 6HN | 01926 405560 |
| Warwick Tourist Information Centre | The Court House, Jury Street, Warwick, Warwickshire | CV34 4EW | 01926 492212 |
| Water Orton Library | Mickle Meadow, Coleshill Rd, Water Orton, Birmingham | B46 1SN | 0121 747 7460 |
| Welford Stores | High Street, Welford on Avon, Stratford-upon-Avon, Warwickshire | CV37 8EF | 01789 750266 |
| Wellesbourne Library | Kineton Rd, Wellesbourne, Warwick, Warwickshire | CV35 9NF | 01789 840528 |
| Whitacre Heath Post Office | Station Rd, Nether Whitacre, Whitacre Heath, Warwickshire | B46 2EH | 01675 462235 |
| Whitnash Library | Franklin Rd, Whitnash, Leamington Spa, Warwickshire | CV31 2JH | 0300 555 8171 |
| Wilmcote Post Office | 1 Aston Cantlow Road, Wilmcote, Stratford-upon-Avon, Warwickshire | CV37 9XN | 0345 611 2970 |
| Wolston Library | Warwick Rd, Wolston, Coventry, West Midlands | CV8 3GX | 0300 555 8171 |
| Wolvey Post Office and Village Stores | The Square, Wolvey, Hinckley, Leicestershire | LE10 3LJ | 0345 611 2970 |
| Wootton Wawen Stores | Stratford Road, Wootton Wawen, Warwickshire | B95 6BE | 01564 792119 |