Louis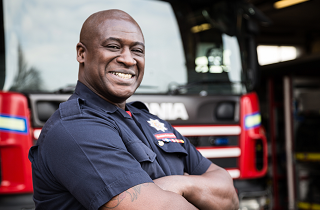 I've been a firefighter for over 27 years and was first inspired when I attended an open day at Coleshill fire station. Initially, I joined as a retained firefighter and over the years, worked my way up to a wholetime role.
Working for the fire and rescue service is just like being in an extended family. It gives you a real sense of achievement, job satisfaction and is a fantastic career to have. The most important part of the role however is being able to give something back to the community and knowing you've had a positive impact on somebody else's day.
As a fire and rescue service we are frequently called out to people in distress and knowing how to respond quickly, but effectively, whilst keeping a calm approach is key to the role. One minute we could be rescuing a person who has become trapped and the next, we could attend a house fire. It's incredibly varied and there really is no other job like it.
I would encourage anybody who is looking to join the service to just go for it. There's plenty of training involved to broaden your skills and being a firefighter allows you to push your own boundaries, both physically and mentally.
If you enjoy being a team player, working together towards a common goal and developing potentially lifelong friendships, then becoming a firefighter could be the perfect job for you!
Sam
I've been a part of the fire service for 17 years now. I started off as a firefighter and have worked my way up to Crew Commander at Stratford Fire Station.
It took me four long years of hard work and dedication to become a firefighter. It's an amazing career to have and I love every minute of it. It really was the best decision I ever made.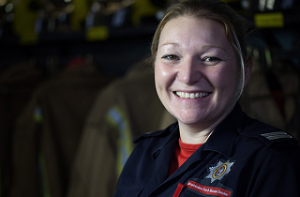 For me, the best part about my job is working in a team environment and never knowing what the day ahead is going to bring. Our duties can range from community fire safety talks, carrying out home fire safety checks to school visits and talking to the elderly.
On other days we could be rescuing people from rivers, road traffic collisions or gliders stuck in trees. It really is true when I say that no day is ever the same.
People are often surprised to see a female firefighter arrive at the scene, but once they know you're in charge and in control, everything is fine. Being a female in the fire service certainly has its challenges, and we have different strengths and weaknesses to what the men do, but we always work well as a team.
For anybody wanting to become a firefighter, I would encourage you to persevere and try as best you can to get in, because it's a brilliant job. Once you're in the service you get really good job satisfaction and it's a great team environment. In all honesty, we are just one big happy family.
Lucy
For as long as I can remember I wanted to be a firefighter. I think I was inspired after undertaking my Duke of Edinburgh Award, which involved a visit to our local fire station. I just knew from then, that it was what I wanted to do.
At 20, I fulfilled that dream and after passing the initial induction programme, I was offered the job as a firefighter with Warwickshire Fire and Rescue Service.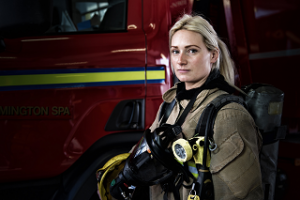 To date, the job has not disappointed. I get into work every shift looking forward to what the day or night will bring.
It's always varied and it's great to be able to help people out of a difficult situation or rescue them from a road traffic collision or house fire. It's not always easy, but that's just part of the job.
For me, I think the toughest part of being a firefighter is getting to an incident involving farming or agriculture, where you see their business going up in flames. I have lived in the country for many years, so I feel a real empathy with how hard farmers work and the devastation a fire can cause to their businesses.
The best part of the job, well there are so many…but I do love it when I go into a school to talk to the younger children. When we first go into the school, the children are often surprised that a firefighter can be a lady, their reactions are priceless. I also love the fact that I can help people when they are most in need and prevent potential issues before they happen by carrying out business or home fire safety checks.
My advice for anyone wanting to become a firefighter would be to work hard, really hard. Persevere and just keep trying. It's not easy, but if you really want it you will make it. For me, it is the best job in the world!