Finance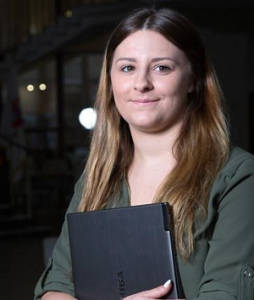 Gemma Lister started her Finance Apprenticeship in July 2014. She was recently appointed as a Finance Officer for Warwickshire County Council.
Why did you apply for the apprenticeship role in finance?
I wanted to get stuck into a job as soon as I finished Sixth form, where I studied for A levels in IT, Business and Accounting. I've always been a hard-working person and I was keen to get hands-on experience and into a paid role.
What is a typical day like for you?
People think finance is dry but it's a varied role, using lots of skills and working with different people. During the finance apprenticeship, you get to rotate across teams supporting a spectrum of council departments. Our role is to ensure good financial management of the money behind key public services and we're always working to make things more efficient. Day to day I could be dealing with a call from someone needing help with a cost breakdown, a salary query or preparing a report.
What have you enjoyed about the finance apprenticeship?
You get great exposure to different council services and I've found my colleagues on the finance team really encourage professional development. People take time to talk you through different parts of the role and you learn so much from other team members. As well as getting on the job experience, I go to college every Wednesday and I've now moved onto my Level 4 AAT (Association of Accounting Technicians) certificate. Another part of the apprenticeship at the County Council that I've valued is having a mentor, who has helped guide and encourage me to progress in my role. She's also continued to study herself so she's proof that you can manage a workload and exams. When a role came up as a finance officer she helped support me with my application, gave me interview tips and told me I could do it.
What would you say to someone considering an apprenticeship?
I have never regretted not going to university. Doing the apprenticeship gives you such a good starting point to go on to specialise within your profession and you get paid as you learn.
Also, when you are doing an apprenticeship it's important to make the most of the opportunities available – volunteer to help as you'll get to develop your skills and improve your knowledge.