Catering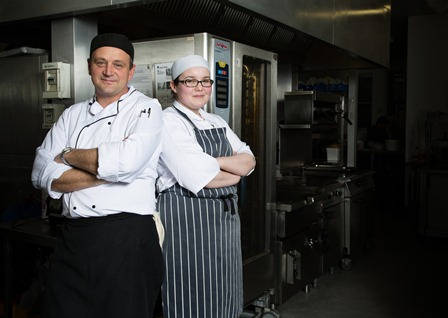 "Recruiting the right people is a major challenge for the hospitality industry," says Executive Chef Matthew Parsons, of Woodland Grange Conference Centre in Leamington Spa.
"Our approach is to take staff on young and invest in them for the long term," explains Matthew, who has been shortlisted nationally for his work developing young people.
"Apprentices can bring untold benefits to the business including increased productivity, improved competitiveness and a committed and competent work-force."
Part of EEF Venues, Woodland Grange is an award-winning conference centre where a team of 14 prepare up to 500 meals a day and to the highest quality. Around 95% of the food served is made from scratch by Matthew's brigade, which is an indication of the training apprentices receive in classical culinary skills.
Matthew has mentored six apprentices to date at Woodland Grange, two of whom are full-time members of staff and continue to progress. Jemma Hall started as an apprentice two years ago when she was just 16 years old and now works as Commis Chef. John Williams joined Woodland Grange seven years ago as a kitchen porter and, after becoming an apprentice, has risen through the ranks to become Demi Chef de Partie.
In an industry where staff turnover is notoriously high, good quality apprenticeships are an effective way to retain as well as train staff.
"People who feel invested in feel more engaged and motivated, which helps productivity as well as quality," says Matthew who is also finding that apprentices are helping his more senior staff to develop.
"It can be a big ask to get other chefs to train apprentices and share their knowledge but it is a key part of their professional development. If my staff want to become an Executive Chef one day, they have to be able to show people how to do things well and do them right."
Matthew is currently mentoring two apprentices: Ailish Griffin and Ewan Shakespeare.
Eighteen-year-old Ailish, who started her apprenticeship in October 2013, has been trained in all sections of service including larder, sauce, grill and pastry. She has also gained essential technical skills such as the specifics of butchery, knife utilisation, presentation standards and food hygiene.
"School wasn't for me and I wanted to get into the workplace, earning money and learning skills," says Ailish. "An apprenticeship is giving me the experience in the kitchen as well as the qualifications for my job. I go to Stratford-upon-Avon College once a week where I am working towards my Level 3 in Professional Cookery. It is hard work at first but an apprenticeship will benefit you in more ways than you think."
The partnership with Stratford College is one that Executive Chef Matthew regards highly.
"By working with the college we are getting the best out of our apprentices. If there is a problem area they will work on it with the student, they will also adapt the course to suit the business."
So what advice would Matthew give to other businesses considering apprenticeships? "Like many other industries sadly, we are facing a huge shortage of skilled staff. Apprenticeships give staff the training and skills to drive your business forward," says Matthew, but he is keen to point out, "what you get out of apprenticeships very much depends on what you put in."