Conservation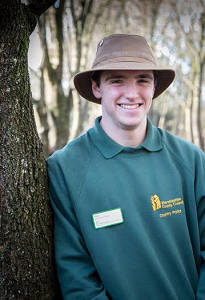 Ben started his apprenticeship as a ranger for Warwickshire County Council's Country Parks in July 2014 and hasn't looked back.
Why did you apply for the apprenticeship role in Country Parks?
I did quite well in my A-levels and could have gone to university if I had wanted to but I decided to take a year out. While I was working at a picture framer's I found this opportunity and knew it was for me.
The apprenticeship offered me the best way to get into a very competitive industry while combining experience and a qualification. As well as learning on the job I am studying for an NVQ Level 3 in Environmental Conservation.
What is a typical day like for you?
I could be leading a school group den building, hunting for insects or pond dipping – which is a fun way for children to explore an aquatic habitat using a net, bucket and magnifying glass. On other days I might be felling trees or managing our blackthorn hedgerows, which rare butterflies depend on for their survival. I work on a 100-acre plot of land with hundreds of different habitats and I've recently been involved in the clearance of an area so that we can create a sand martin bank. Another part of the role is making sure our social media is up to date so I could be publishing pictures on facebook about different conditions on the site.
What do you enjoy about working in the Country Parks Team?
I like the fact that it's different all the time and the job never stands still. Working outside is really good for you and the role changes with the seasons. We have a busy winter work programme which changes at the end of February when we avoid clearance work so that we can attract nesting birds and protect their habitats.
The practicality of the role, learning from other people on the team, has been the best part of the job. I've found that I can learn at my own pace and as well as welcoming questions, my colleagues encourage me to put lots of different skills into practice.
What would you say to someone considering an apprenticeship?
Applying for an apprenticeship was one of the best decisions I ever made. You will always learn a broad spectrum of skills, you get to study for a qualification and it's fantastic that you get paid for it. Doing an apprenticeship opens up countless opportunities and helps you decide what you want in life.