Information and communications technology (ICT)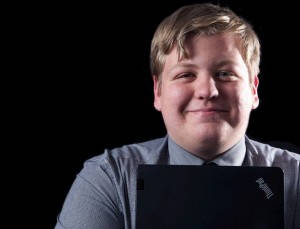 ICT Service Desk Advanced Apprentice Ben Rudd.
Why did you apply for the apprenticeship in IT at WCC?
I thought the apprenticeship would give me a chance to start my career in IT in a corporate environment. I'd been to college but decided I enjoyed working just as much. The apprenticeship was a perfect match, as it's a mixture of working at a professional level while still going to college. I've gained real work experience as well as qualifications that will help me progress in the IT industry.
Another attraction is that Warwickshire County Council is at the heart of the county and community. Living in Warwick all my life, it was the idea of working at heart of the county and supporting the local community which really appealed to me.
What's a typical day like for you?
On the Service Desk, we support a wide range of business applications and devices. We're the first point of contact for all IT related queries such as new user creation and general advice on WCC guidelines and policies. I might also be taking customer calls, logging calls and responding to customers, supporting mobile devices, password resets and software installation.
What do you enjoy about working on the service desk?
No call is the same, every call is different and with the Service Desk supporting a wide range of business items, you are guaranteed to always find something new and interesting.
What have you enjoyed about the apprenticeship?
Experiencing the IT industry for the first time. The apprenticeship helped me to understand an IT infrastructure in a corporate environment by visiting different departments within the organisation.
Entry requirements
Essential – Five C Grade GCSEs including English and Maths
Desirable – At least one A-level or equivalent.
Skills and interests
You will possess good spoken and written communication skills
You will have an interest in IT and problem-solving.
You will need to be a good listener and be able to take accurate notes
You will have an awareness of customer care and customer service skills.
You will enjoy working as part of a team.
Daily activities
The Service Desk is the point of contact for all ICT related queries. The apprentice would work on the Service Desk in order to gain an understanding of the types of queries received and how these are dealt with. They will primarily be speaking with customers on the telephone, logging requests/queries, resolving these where possible and, where not possible to resolve, assigning them to other support teams. They will also have the opportunity to work within other service areas within ICT in order to broaden their understanding of these areas and bring these skills back to the Service Desk.
Future prospects and opportunities
To acquire the skills and knowledge to be able to apply for a level 3 IT streamlined job role within the Service Desk or other appropriate areas of IT should a position be available.
As well as working on the Service Desk, there is also the opportunity to work in some of the following areas:
Device support – The Device Support team works closely with the Service Desk and other areas of Customer& Supplier Services to provide frontline support to the employees of Warwickshire County Council. This includes management, troubleshooting and deployment of personal computing devices that staff use to both access and exploit ICT systems and facilities.
Library information systems development and support – We provide day-to-day ICT support to these frontline, public-facing services and work closely with them to develop their existing systems and to introduce new technologies. Their reliance on ICT continues to grow as their budgets shrink and therefore the delivery of self-service and web-based systems is a high priority for us along with providing access to computers for Warwickshire citizens that do not have their own devices.
Marketing and communications – The marketing and communications function coordinates the development and implementation of an effective marketing and communication plan for Information Assets, delivering key messages to customers via multiple platforms. Liaising with key stakeholders to deliver IT solutions that support Service priorities as well as providing a central point of contact in Information Assets for Performance and KPI (Key Performance Indicator) monitoring.
Learning and development – The IT learning and development service aims to provide guidance and support for any IT learning needs, focussing on business specific requirements. It is important that we can measure the impact of any training and development programme. To facilitate this we work with the business area to identify the outcomes required before designing a learning programme. This allows us to clearly show the value to the authority of the training provided.
Business partners – The business partners work with service areas within Warwickshire County Council to help them with making the best use of IT to deliver their services. We do this by developing business relationships, providing customer insight, understanding current and future priorities, promoting relevant services and identifying business/service improvements.
Desktop development – The desktop development team are responsible for the creation and maintenance of the corporate Windows 7 build, which supports many desktops, laptops and tablets models. We script all of the software required by the 4,500 PCs in our estate. We also pro-actively research new technologies to meet end-user business requirements.
Purchasing – We provide a purchasing service for Warwickshire County Council, for all ICT equipment, desktop application software, mobile devices, network points, and various other goods and services.