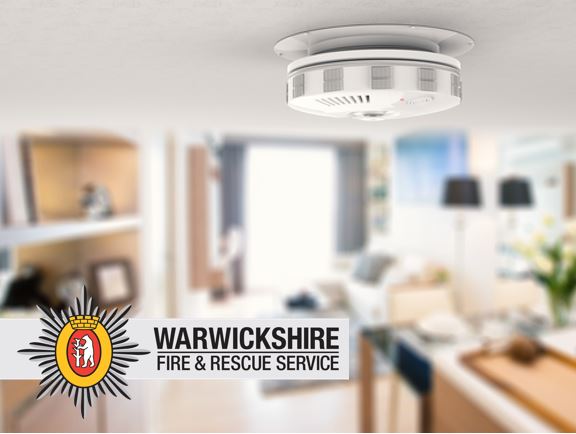 Warwickshire Fire and Rescue Service are urging tenants to know their rights when it comes to fire safety in the property they are renting. 
For many landlords the priority is for a property to be kept in a good condition and for the rent to be paid on time, but there is also the priority of providing a property that is fundamentally safe and habitable for tenants to live in.
The well-being of tenants and compliance with the law are paramount, and there are specific obligations that every landlord must adhere to when renting out their properties. By law, all landlords (excluding registered social landlords) are required to install working smoke alarms on every floor of the property and a carbon monoxide alarm in rooms containing a solid fuel appliance. Landlords are also responsible for ensuring that these alarms are in proper working condition at the start of each new tenancy. Tenants should promptly notify their landlords if they notice any issues with the alarms.
In privately rented accommodation landlords must also:
Ensure

any

furnishings are fire resistant and meet safety regulations.

Make sure any appliances and furniture they have

provided

are kept in a safe condition.

Arrange an annual gas safety check by a Gas Safe engineer (where there are any gas appliances).

Arrange an Electrical Installation Condition Report (EICR) every five years.

Show tenants safety certificates to prove when gas and electric appliances were last checked.

Ensure there are adequate escape routes from the property.

Ensure the property is free from dangerous fire hazards.
Talking about tenants' rights and the importance of fire safety, Warwickshire County Council's Portfolio Holder for Community Safety and Fire Andy Crump said:  
"You are around nine times more likely to die in a fire in the home if you don't have working smoke alarms. So please ensure that if you live in rented property that you have a working smoke alarm on each floor of your home as a minimum.

"It's also essential to check to see if the home you are renting has a carbon monoxide alarm as they can protect against serious health issues or even death by alerting you to poisonous, colourless and odourless gas, produced by appliances which burn gas, wood, oil or coal.

"If you have any concerns regarding fire safety in your rented property, then please contact our fire safety team for advice or visit https://www.warwickshire.gov.uk/fire-safety-home"
If you are a landlord and would like to know more about your responsibilities and legal requirements, please visit https://www.warwickshire.gov.uk/fire-safety-businesses-1/fire-safety-landlords
For information on houses of multiple occupancy visit https://www.warwickshire.gov.uk/fire-safety-businesses-1/fire-safety-landlords/2
For blocks of flats visit https://assets.publishing.service.gov.uk/government/uploads/system/uploads/attachment_data/file/1147631/A_guide_to_making_your_small_block_of_flats_safe_from_fire.pdf or https://assets.publishing.service.gov.uk/government/uploads/system/uploads/attachment_data/file/1093391/Fire_Safety_in_Flats_-_Web_accessible.pdf