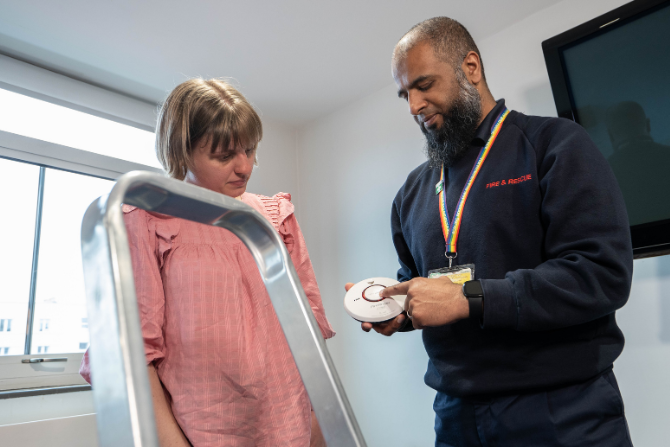 Warwickshire Fire and Rescue Service is taking proactive steps to raise awareness about fire safety in the home.
With autumn on its way and the cooler weather setting in, Warwickshire Fire and Rescue Service is taking proactive steps to raise awareness about fire safety in the home and the importance of conducting safe and well checks for our most vulnerable community members.
Every year, fires pose a significant risk to lives and property, especially during transitional seasons when temperature variations can lead to an increased use of heating equipment and potential fire hazards.
Whilst there are some steps you can take to reduce the risk of having a fire in your home including:
Inspecting Heating Systems:

Ensure your heating systems, including furnaces, chimneys, and space heaters, are clean, well-maintained, and in good working condition.

Installing Smoke Alarms:

Make sure smoke alarms are installed on every level of your home and test them monthly. Replace batteries at least once a year.

Creating Fire Escape Plans:

Develop and practice a fire escape plan with your family, identify exit routes and a designated meeting place outside.

Safe Use of Space Heaters:

When using portable electric space heaters, keep them at least three feet away from flammable materials and never leave them unattended.

Proper Candle Usage:

Use candles with caution, never leave them burning unattended, and keep them away from curtains, papers, or any flammable items.
Our most vulnerable community members, including the elderly, disabled, and those with limited mobility, may require some additional support in the form of a Safe and Well visit. The visits are FREE and are carried out by firefighters and community fire safety officers and have helped protect thousands of residents across Warwickshire from the risk of fire in their home.
During the visit they will provide fire safety advice, check that your smoke alarms are working and replace or install new ones if needed.
Officers will also provide advice on preventing slips, trips and falls, giving up smoking, winter warmth, home security and hydration and healthy eating.
Talking about the importance of Safe and Well visits, Warwickshire County Council's Portfolio Holder for Community Safety and Fire Andy Crump said:
"Prevention is at the core of the work we do, and we prioritise and target our Safe and Well visits, with a focus on the most vulnerable people in our communities. Our teams enjoy actively working with the community, forging connections with its residents, and helping those living locally.
"Through home visits and practical assistance and guidance our primary objective is to raise awareness about potential fire hazards and minimise the risk of household fires. Over the past year, our teams conducted 6115 Safe and Well checks for the most vulnerable individuals, and this work is ongoing.
"As a fire and rescue service, we remain steadfast in our dedication to safeguarding the well-being of Warwickshire's residents through our commitment to prevention, protection, and response."
You can apply for a safe and well check by visiting https://www.warwickshire.gov.uk/fire-safety-home/apply-safe-well-visit Referrals are also be made by partner agencies or carers. For essential advice and information on fire safety in the home visit https://www.warwickshire.gov.uk/fire-safety-home