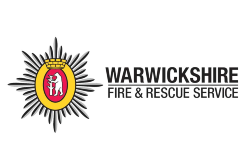 Warwickshire Fire and Rescue Service has reasserted its commitment to ongoing improvement plans.
After a further inspection by Her Majesty's Inspectorate of Constabulary and Fire and Rescue Services (HMICFRS) earlier this year, Warwickshire Fire & Rescue Service (WFRS) has reasserted its commitment to ongoing improvement plans.
HMICFRS assesses and reports on the efficiency, effectiveness and people of the 45 fire services in England. The last inspection in Warwickshire was carried out remotely, due to Covid restrictions, in 2021/22.
The most recent report found progress in most areas of inspection since 2021/22, foremost among which were the improved community risk management plan and the response to the need to promote equality, diversity, and inclusion (EDI) in the workplace.
Although progress is being made, the report noted that there is still work to be done, particularly in relation to protection through regulation of fire safety and efficiency of the workforce. In both cases, a concentrated programme of work is ongoing to improve the service's capacity for engaging with businesses. This will include a new programme of training for watch and crew commanders. In addition, the roll out of improved IT systems will make very significant improvements to the efficiency of the workforce.
Warwickshire Fire and Rescue Service's Chief Fire Officer Ben Brook said: "Warwickshire Fire and Rescue Service welcomes constructive feedback as it will help us to provide the best possible service for our communities. It was good to see the inspection note progress in the areas of community risk management and in our approach to equality and diversity, in response to the previous inspection.
"And while there is still more to do, we have a robust plan of action in place which is already making significant inroads into improving the services we provide to make Warwickshire a safe environment to live, work and travel in."
Warwickshire County Council's Portfolio Holder for Fire and Community Safety Andy Crump added: "We know Warwickshire Fire and Rescue Service is held in high regard by many people but that doesn't mean that we rest easy. We have made progress, but we also know that the world is a fast-changing landscape, and we have to constantly be moving forwards.
"Our staff put in an immense amount of hard work and commitment to their communities, and I would like to acknowledge that and thank them for it. I am confident that we have the right plans in place moving forwards and remain committed to making the service the best it can be now and, in the future, to keep the communities of Warwickshire safer."
For more information on prevention, protection and response visit https://www.warwickshire.gov.uk/fireandrescue.