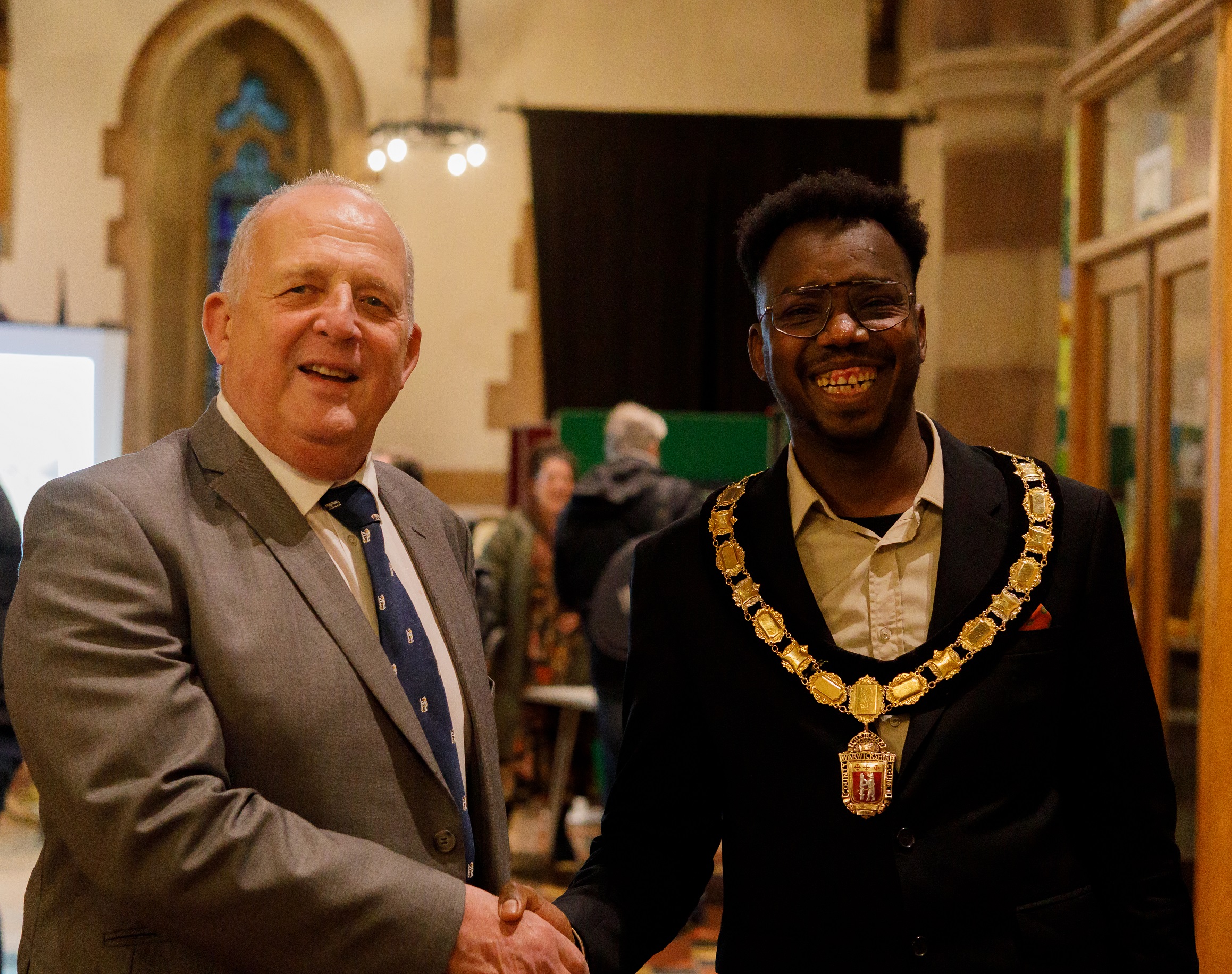 Warwickshire County Council (WCC) Family Support Worker Umar Teerab, a care leaver from Sudan, got to be Chairman for the day on Sunday thanks to the current Chair, councillor Dave Humphreys stepping aside for the day.  
Umar has been an avid supporter of care leavers since starting his apprenticeship with Warwickshire County Council in 2018. Now as a Family Support Worker, Umar understands the challenges young people face and is in a privileged position to help support them to ensure their voices are heard. However, since taking on the role of Family Support Worker, Umar has had a real interest in how local authorities work and becoming Chair of the Council for the day was a unique opportunity which was too good to be missed.
The role of the Chair of the Council is the civic and ceremonial head who is there to represent the council at formal and informal meetings and ensure that discussions are carried out in accordance with the council's constitution and procedural rules. The Chair is there to make sure that meetings are run effectively and inclusively, in line with any agreed agenda and to deal with the business at hand.
To carry out these duties and start his day as Chair, Umar was accompanied by the Chair of Warwickshire County Council, Dave Humphreys to the Shipston Town Council Annual Civic Service at St Edmunds Church. On arrival Umar was welcomed in his role as acting Chair and following the service, attended a reception event where he was able to meet and speak to several members of the local community to explain his role and his expectations for the day.
Once the event was complete, Umar and the Chair then travelled to Rugby to the High Sheriff of Warwickshire Event and Church Service at St Andrews Church. On arrival they were joined by The High Sheriff of Warwickshire for a tour of significant local environmental improvements including the Rotary Club of Rugby's Great Central Way Project.
At both events Umar was able to act as the civic and ceremonial head of the council wearing the ceremonial chain. It was a rare and unique opportunity and in Umar's own words; was one to be remembered.
Talking about his experience of the day, Umar said:
"I really enjoyed my day as acting Chair of Warwickshire County Council. As someone who has been welcomed into Warwickshire, I felt that I wanted to give something back. The events on Sunday enabled me to do just that and the Chairman was really supportive talking me through what I needed to do for the role.

"However, he not only made me look like the Chair, but he also went out of his way to make me feel like the Chair, when he introduced me to people at the events. It really was an incredible experience and one I'm happy to have had the opportunity to do."
Chair of Warwickshire County Council. Councillor Dave Humphreys said:
"It was an honour to spend the day with Umar. He is an inspiring young man who came here as an unaccompanied asylum seeker scared and alone. Warwickshire has a proud history of welcoming refugees from across the globe and we know that our role extends beyond providing a warm welcome. In Umar's case, we have been delighted to help him build an incredibly productive life in the county. He is now supporting care leavers in the same position as a family support worker at Warwickshire County Council. He really is an amazing person.

"To be able to help him to achieve his dream of becoming the Chair of the Council for the day was very humbling. I would like to thank Umar for the excellent job he did, not only representing me, but also Warwickshire County Council. I hope he will take many happy memories away and be proud of the role he continues to play supporting young people across Warwickshire."