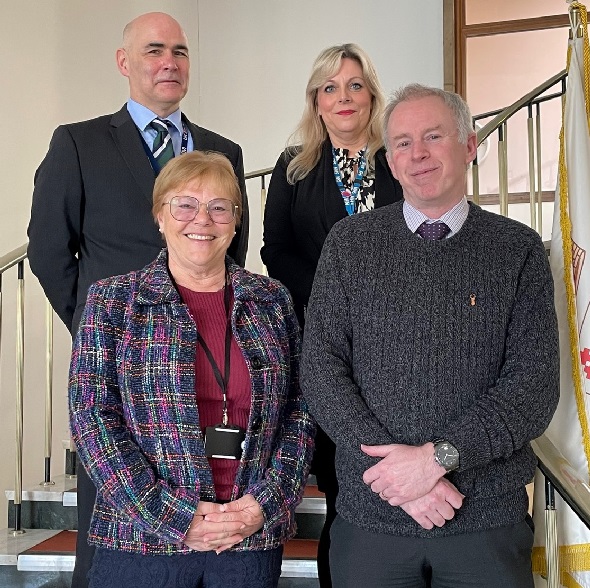 Yesterday at the Warwickshire Safeguarding Executive Board meeting, members pledged their support to raise awareness of Child Exploitation in the county, ahead of Child Exploitation Awareness Day.
Child Exploitation Awareness Day will take place on Saturday 18 March. Every year, hundreds of children and young people are exploited in Warwickshire. Child exploitation comes in many different forms, such as sexual exploitation or abuse, coerced criminal activity, county lines drug dealing, human trafficking and online grooming. It can affect any child, anywhere, anytime, and regardless of their social or ethnic background or gender.
The aim of National Child Exploitation Awareness Day is to bring attention to child exploitation, promoting awareness and encouraging individuals and communities to recognise and report instances of abuse. This includes adopting zero tolerance towards adults engaging in inappropriate relationships with children, as well as children who exploit or abuse their peers.
The Something's Not Right campaign, a partnership initiative between the council, Warwickshire Police, Barnardo's and the Police and Crime Commissioner, will be amplifying these messages in support of the awareness day. Since 2021 the campaign has raised awareness amongst Warwickshire residents of all forms of child exploitation to encourage everyone, not just parents, carers and professionals working with children, to tackle the issues of the exploitation of our children.
There are some key signs to look out for in a child or young person, such as:
receiving unexplained and expensive gifts or money
having no money but in possession of cigarettes, alcohol and other expensive items (could be a sign of running up debt)
having new and significantly older friends
being picked up from school by strangers
substance use (drugs / alcohol)
changes in mood
showing signs of self-harm
regularly going missing from school and home
staying out late
being secretive about where they are going
being secretive with their mobile phone, laptop, tablet or other electronic devices
lack of interest in activities and hobbies
Everyone has a responsibility to protect children and young people, and there are things people can do to help tackle exploitation:
Learn what the signs of child exploitation are so it is easier to recognise
Know where to go to report anything that's not right
Build trusting relationships with young people
Write a pledge on your hands to show support for the #HelpingHands campaign, and share it on social media
Share social media messages from WCC and partners across social media to spread awareness
Parents are invited to attend an online session to learn more about child exploitation, what to look out for and where to get help. The free session is being run by children's charity Barnardo's on Thursday 16 March, 7-8pm. To book your place, email rebecca.weaver@barnardos.org.uk.
Elaine Coleridge-Smith, Independent Chair & Scrutineer of the Warwickshire Safeguarding Partnership, which works to ensure that vulnerable children across Warwickshire are protected from harm and abuse, said:
"Every child and young person has the right to feel safe and be protected from all forms of abuse. We all have a responsibility to be aware of the signs to be watching out for and to take action if something doesn't seem right.

"We encourage anyone who is concerned about a young person that they know to remain vigilant and aware of any potential signs of exploitation, such as hanging out with older people, mood swings or receiving unexpected and expensive gifts. If this sounds familiar, please get help now."
If you think a child or young person is being exploited, you can contact the Warwickshire Front Door between 9am to 5pm, Monday to Friday, on 01926 414144. If a child or young person is in immediate danger, call the police on 999.
To learn more about child exploitation and the support available, visit www.somethingsnotright.co.uk.
If you would like to raise awareness of child exploitation in Warwickshire on social media, use #SomethingsNotRight and #CEADay23.
Where to go for help and support
For information on how to spot the signs of child exploitation, visit https://www.somethingsnotright.co.uk/spot-the-signs/
For information and advice go to www.somethingsnotright.co.uk
If you are worried about a child or young person, contact the Warwickshire Front Door between 9am to 5pm, Monday to Friday, on 01926 414144
You can also make a report to Warwickshire Police via their website or by calling 101, or you can contact your local Children and Family Centre
Contact Crimestoppers confidentially and anonymously on 0800 555 111
Talk to trained counsellors on the 24-hour helplines run by ChildLine on 0800 11 11 and the NSPCC on 0808 800 5000
If someone is in immediate danger, call the police on 999