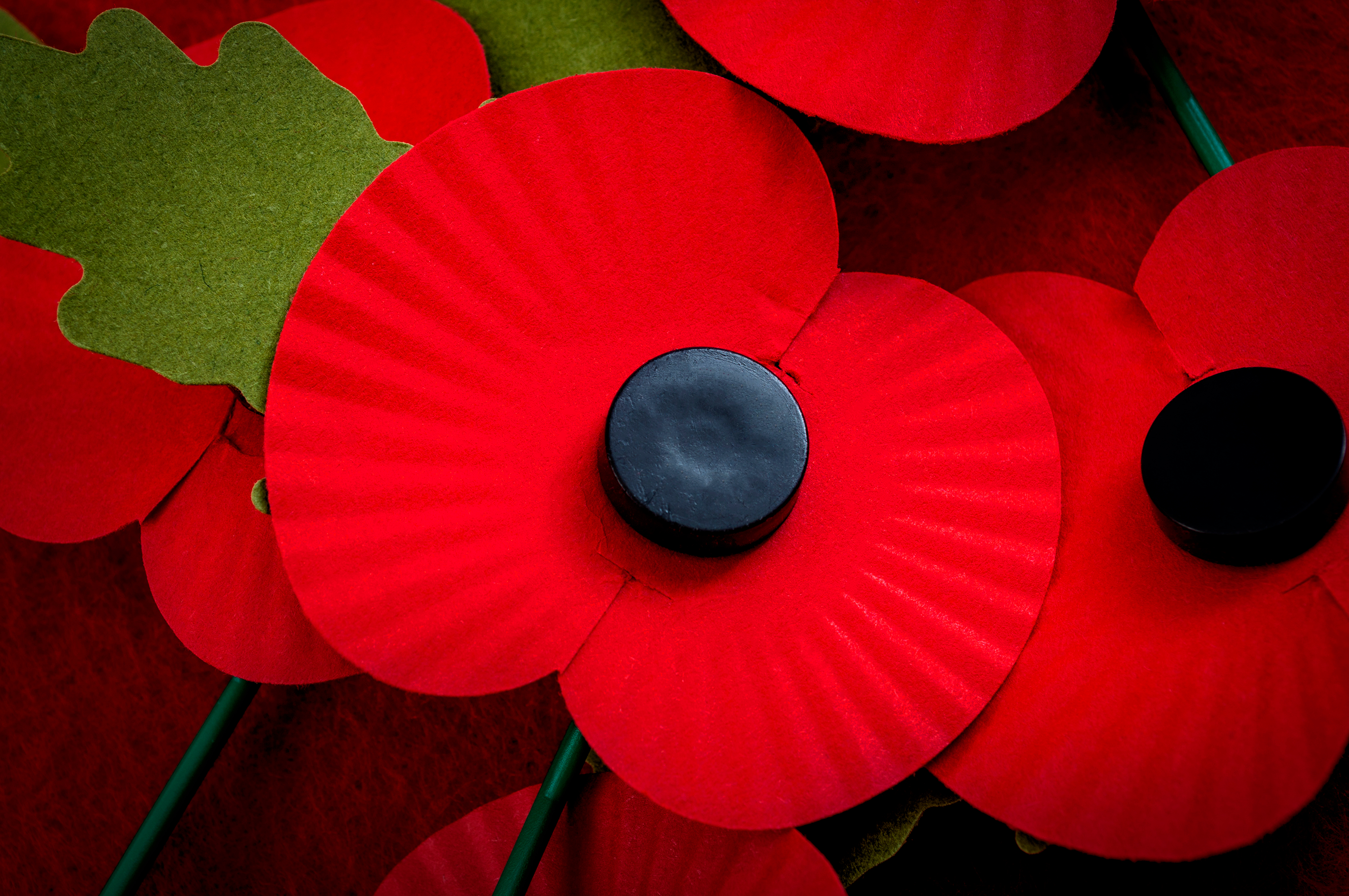 The annual Armistice Day and Remembrance Sunday commemorations are due to be held on Friday 11 November and Sunday 13 November across the UK.
Councillor Izzi Seccombe, Leader of Warwickshire County Council, said:
"Armistice Day and Remembrance Sunday are occasions that we mark each year with great pride and veneration as we remember the countless sacrifices made by members of our armed forces.
"This year's Remembrance Days will follow in the footsteps of all those that have come before and will honour and remember the bravery and sacrifice of our armed forces who have fought for the freedoms that we enjoy."
Warwickshire County Council's Chairman, Councillor Dave Humphreys, and Lord Lieutenant Tim Cox, who is the King's representative for Warwickshire, will attend the Bedworth Armistice Parade on Friday 11 November.
Tim Cox will also be in attendance at Holy Trinity Church in Stratford-upon-Avon for a Remembrance Sunday service, and Councillor Wallace Redford and Vice Lord Lieutenant Lady Susan Saunders will be at the Warwick Remembrance and wreath laying event at St Mary's Church also taking place this Sunday.
As the Lord Lieutenant for Warwickshire, Tim Cox alternates his attendance at Remembrance events around the county each year, with many of his Deputy Lieutenants also attending Remembrance Sunday services this week across the county.
Lord Lieutenant Tim Cox said:
"Remembrance Day and Remembrance Sunday are important moments for us to remember the incredible service men and women that have served our country in all major conflicts and who gave the ultimate sacrifice. It is important to remember every person who has given their life as they have enabled us to enjoy the freedom that we can experience today."
Warwickshire Fire and Rescue Service will also be supporting local commemoration events, as well as observing the 2 minutes silence and flying union flags at half-mast on Remembrance Day.
Members of the public can hold their own personalised Acts of Remembrance and more information on how to do this can be found on the Royal British Legion website.
For more information about how Warwickshire County Council is supporting the armed forces, visit: https://www.warwickshire.gov.uk/armed.
You can find Remembrance events near you below:
Remembrance Events 2022 – Coventry, Solihull & Warwickshire
Area / District

Time & date

Contact details

Event details

Comment

ARMISTICE DAY

Coventry – West Orchard Poppy Drop

Friday 11 Nov 10.45-12PM

West Orchards Shopping Centre

Smithford Way, Coventry CV1 1QX

https://www.coventry.gov.uk/events/event/7943/west-orchards-poppy-drop ---coventry-remembers-2022

Coventry Corps of Drums; West Orchards; Holy Trinity Church; St.Mary's & St.Benedict's School, CCC; RBL

Bedworth Armistice Day Parade

Fri, 11 Nov 10:45

Form up Church Way next to Bedworth Markets – March to Bedworth War Memorial

https://bedwortharmisticeday.org/armistice-day-parade/

Bedworth Armistice Day Committee organised

Whitehall Recreation Ground, Rugby

Fri, 11 Nov 10.45am

In the tradition of a two minute silence at the 11th hour of the 11th day of the 11th month in memory of those who gave their lives for their country.

Maroons will be fired at Whitehall Recreation Ground, in Hillmorton Road, to mark the beginning and end of the silence - 11am and 11.02am.

Rugby Borough Council & Royal British Legion

Warwick War Memorial

11th Nov.

10.45am

Jayne Topham

01926 411694

Brief service to mark Armistice at War Memorial, Church Street, Warwick

SUNDAY EVENTS / WARWICK

Leam / Warwick

Sun, 13 Nov at 10.45am

Clerk 01926 450906

Leamington Spa Remembrance Service

War Memorial, Euston Place, Leamington

https://www.leamingtonspatowncouncil.gov.uk/Remembrance.aspx

Supported by RBL, WDC, Leam TC

Whitnash / Warwick

Sun, 13 Nov at 10.00am

St Margaret's Church, 2 Church Close, Whitnash, CV31 2HJ

The wreath laying ceremony takes place at 11h00 at the War Memorial outside the Church

Remembrance Day Service in Whitnash supported by WTC

St Mary's / Warwick

13th Nov

10.00am

Jayne Topham

01926 411694

Service at St Mary's Church, Old Square, Warwick. CV34 4RA (limited seating). Followed by service 10.45am at War Memorial, Church Street

Kenilworth

5 November 2022 at 10:55am

George Illingworth, RBL

Field of Remembrance Dedication, War Memorial, Abbey Fields

Kenilworth

11 November 2022 at 10:55am

George Illingworth - RBL

National Two Minutes Silence, War Memorial, Abbey Fields

Kenilworth

13 November 2022 at 10:45am until 12 noon

George Illingworth – RBL/KTC

Remembrance Day Service, War Memorial, Abbey Fields

NORTH WARKS

Atherstone

10:30am and 12:30pm

Remembrance Events are taking place at Sheepy Road and Church Street between

Fillongley

11:15am and 11:45 am

Remembrance Event at Coventry Road between

Coleshill

10:30am and 13:00pm

Remembrance Events are taking place at Wingfield Road, Parkfield road, High Street and Church Hill between

Hartshill

10:00am and 12:00pm

Remembrance Events are taking place at Church Road and Oldbury Road between

Water Orton

10:30am and 11:00am

Remembrance Event is taking place at Coleshill Road between

NUNEATON & BEDWORTH

Sunday 13 Nov

For information on events in Nuneaton, Bedowrth, Bulkington and Ash Green

https://www.nuneatonandbedworth.gov.uk/events/event/718/remembrance_sunday_services_in_nuneaton_bedworth_and_bulkington

RUGBY

Sunday 13 Nov

For information on events in Rugby, Hillmorton and Stretton-on-Dunsmore

https://www.rugby.gov.uk/news/article/1770/remembrance_sunday_and_armistice_day_in_rugby

STRATFORD

Town Hall

Sunday 13 Nov 10.35am

The civic procession starts at 10.35am from the Town Hall in Sheep Street, CV37 6EF along Chapel Street, Church Street and into Old Town to the Remembrance Garden, CV37 6BN.

Following the Service of Remembrance, the Civic Party will return to the Town Hall via Old Town, Church Street

Stratford-upon-Avon Town Council is responsible for organising Stratford's Act of Commemoration on Remembrance Sunday

COVENTRY

War Memorial Park

Sunday 13 Nov at 10.45

Annual Remembrance Day Service and Parad e

War Memorial Park Kenilworth Road, Coventry CV3 6PT

https://www.coventry.gov.uk/events/event/7944/remembrance-sunday-service-and-parade---coventry-remembers-2022

Coventry Cathedral; Holly Ghost Zone Parish;

CCC, Crist the King Church;

London Rd Cemetery

Sunday 13 November 2022 at 15:00

Communal Grave Service

London Road Cemetery, London Rd, Coventry CV1 2JT

https://www.coventry.gov.uk/events/event/7945/communal-grave-service-at-london-rd-cemetery---coventry-remembers-2022

Coventry Cathedral, CCC

SOLIHULL

Solihull / St Alphege

13th Nov 10.30am - 1pm

Louise Morley 0121 704 6023

Parade from upper part of Church Hill Road, New Road and service road by exit to Council House. Service in St Alphege Church/war memorial

SMBC organised

Solihull/ Castle Bromwich -

13th November, 10am – 12.30pm

Castle Bromwich Parish Council

Remembrance service and parade

Solihull/Dickens Heath – village centre

13th November, 10am - 12pm

Dickens Heath Parish Council

Remembrance service

Solihull/Hockley Heath - village centre

13th November, 12.30pm - 1.30pm

Hockley Heath Social Club

Remembrance parade

Solihull/Knowle - village centre

13h November, 10am - 1pm

Knowle and Dorridge Round Table / Knowle and Dorridge Royal British Legion

Remembrance service and parade

Hampton in Arden

13th Nov

10am-12pm

Julie Barnes 01675 442017

Parade and open-air service in Hampton-in-Arden which will take place between the parish church and at the war-memorial via the High Street in Hampton-in-Arden.

Hampton in Arden Parish Council organised

Meriden

13th Nov

Parade from Main Road at junction with Leys Lane, Berkswell Road from Heart of England Club and main road adjacent to Manor Hotel

Meriden Parish Council organised

Shirley

13th Nov

10.10am-12pm

Ken Russell 07773687693

Bickenhill/Marston Green

13th Nov

Julie Brennan

0121 779 4040

Parade down Elmdon Road, part of Station Road and Land Lane in Marston Green

Bickenhill & Marston Green Parish Council organised