Reception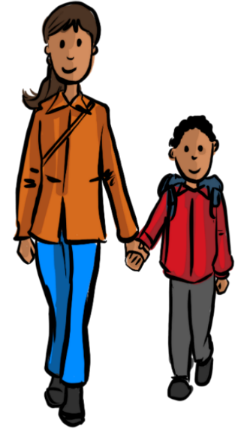 Message: THINK about roads, STOP at the kerb and wait, KNOW to hold hands
Delivered: Autumn term by Road Safety Officer
Format: Classroom session, approximately 30 minutes
Learning Objectives:
Increasing awareness of safe behaviours relating to:

Staying close to an adult
Holding hands
Stop and danger
In our Reception class session, children learn the importance of holding hands with an adult and stopping at the kerb. We provide a balance between adult-led and child-initiated learning and experiences, incorporating Kagan cooperative learning strategies to engage and enthuse all learners. Children are fully supported in their learning and provided with opportunities for play and exploration.
During the session, the children are introduced to the 'magical box', inside which they find and explore a variety of objects, including a thinking hat. The children begin to understand the importance of thinking, stopping, looking and listening through the use of visual and tactile resources. Key vocabulary and messages are reinforced through interactive activities, games, songs and story.
Children are presented with their own copy of the story 'Warwick Bear and the Thinking Hat' to take home and share with their family. The book explores the dangers of running off and the importance of holding hands.
The session makes links with the Early Years Foundation Stage, incorporating opportunities for communication and language, physical development, and personal social and emotional development.