Do you care about people in your community and want to support them to live independently?
Reablement is a service which delivers care and support to people eligible for home care who have been discharged from a hospital, by helping them to do things for themselves.
We are now looking for Reablement Assistants (carers) to provide support to individuals in their own homes within the community. You will work with a variety of people from different backgrounds and cultures to maximise their independent living skills. You will work with each individual through their own support plan as directed by the Reablement Assessment Officer/Occupational Therapist.
The salary is competitive (£9.67 – £10.64 per hour) and you are also entitled to travel expenses and an enhanced rate for weekend working and bank holidays.
You must have a driving licence and be a car owner.
How to apply
To apply please visit WM jobs – reablement assistants.
For more information contact Laura Vernon on 01926 414875 or [email protected]
We are committed to safeguarding and promoting the welfare of children, young people and adults and expect all staff and volunteers to share this commitment, these posts are subject to an enhanced DBS disclosure.
Case study: Glenda Mayer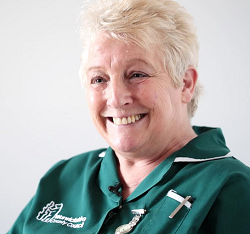 Glenda Mayer originally joined Warwickshire County Council as a Reablement Assistant. She is now an Occupational Therapy Assistant.
As a Reablement Assistant, Glenda visited the homes of people who had recently suffered illness, or who had to stay in a hospital. They were ready to return home but needed support to regain independence skills. Glenda really enjoyed helping people become independent again.
One lady, who Glenda fondly recalls, had suffered from a stroke and was almost helpless in her home. After weeks of Glenda helping to build her confidence back up, the customer progressed to walking with a frame. They were then able to leave the house independently on a scooter.
The progress and the change in the customer's quality of life had been immense. Glenda knew she had played a very important part in this turnaround.
"I love getting to meet people and helping them," she says. "It's so rewarding to watch customers get better and know you are making a difference to people's lives."
Reablement Assistants get to travel all around the county. They are supplied with a phone and sat nav and travel costs are reimbursed. Training is also provided to ensure all Reablement Assistants feel confident and can do the very best for customers.
Over to Glenda for the final word. "You really feel appreciated. It's great to be called an angel just for doing your job, but it's more than a job."