Ways to get into work have changed a lot over the last few years and will continue to do so. The diagram below gives an overview of the different options available to young people.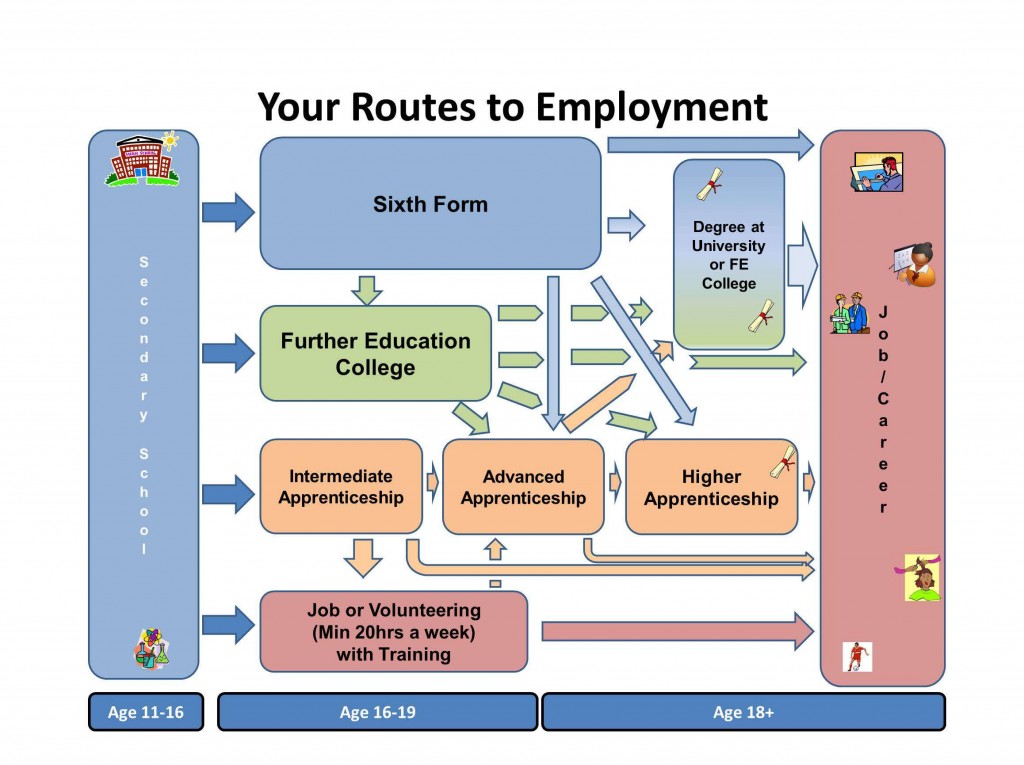 Secondary education
Secondary education has changed with the growth of academies, free schools, studio schools and university technical colleges (UTCs) all catering for 11-16/18 and 14-16/18-year-old students. The different types of secondary education are listed below and you can also visit our schools page for local information.
Academies and free schools
These schools are publicly funded, independent and are not managed by a local authority. This allows them to set their own pay and conditions for staff and also change the length of the school term. Academies don't have to follow the national curriculum.
Studio schools
Studio schools are usually smaller with around 300 pupils aged 14-19 and deliver mainstream qualifications through project-based learning. They use a combination of real-life situations as well as learning academic subjects. Working with local employers and a personal coach, students follow a curriculum designed to give them the skills and qualifications they need for work and further education.
University technical colleges (UTC)
UTCs specialise in subjects like engineering and construction – which are taught alongside business and IT skills. Pupils study academic subjects as well as practical subjects leading to technical qualifications. The curriculum is designed by the university and employers, who also provide work experience for students.
UTCs are sponsored by universities, employers and further education colleges.
More information about UTC's including the two local to Warwickshire can be found here: UTCs
Sixth form
You may be able to study at your own school's sixth form, choose the sixth form of another school, or go to a sixth form college. They offer a wider range of options than you've probably had to date, and the environment is usually more relaxed than in Year 11. Sixth forms vary a lot in size and the courses and facilities they offer. Sixth form colleges tend to be larger and more informal than school sixth forms.
Further education colleges
Further education colleges can offer similar courses to sixth form, as well as a wider range of vocational subjects. They also vary a lot in size and in the subjects and facilities they offer. Your fellow students may include adults of all ages as well as young people.
Apprenticeships
Apprenticeships give you the chance to learn – and gain nationally recognised qualifications – while earning a weekly wage.
Apprenticeships are available in more than 200 roles across a range of industry sectors from accountancy and business administration to construction, engineering, manufacturing and many more.
Apprenticeships are offered at three levels with the higher apprenticeships now going from Level 4 (foundation degree) up to a Level 7 qualification that is equivalent to a Master's degree.
Employment / volunteering with training
If you're 16-18 and not in full-time education or an apprenticeship you must be working or volunteering for over 20 hours a week and also on a recognised training programme at an appropriate level.
Degree
A degree is usually studied at university, however, you can now choose to study for a degree at a further education college or private training provider.
To find out more please visit the UCAS website.