This page is intended for Public Health professionals.
"The science and art of promoting and protecting health and well-being preventing ill-health and prolonging life through the organised efforts of society."
Public Health is about improving and protecting the health of groups of people, rather than about treating individuals.
What affects health?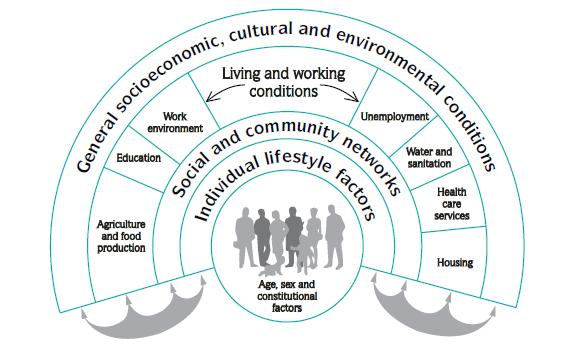 The Dahlgren and Whitehead model 1991, pictured above, shows the factors that affect our health. The factors influence and often constrain the 'choices' we make and the lifestyle we lead.
The Joint Strategic Needs Assessment (JSNA) provides a framework to examine these factors.
Public Health practice
The Faculty defines nine key areas of Public Health practice:
Surveillance and assessment of the population's health and wellbeing.
Assessing the evidence of the effectiveness of health and healthcare interventions.
Policy and strategy development and implementation.
Strategic leadership and collaborative working for health.
Health improvement.
Health protection.
Health and Social service quality.
Public Health Intelligence.
Academic Public Health.
Source: The Faculty of Public Health