Vehicle maintenance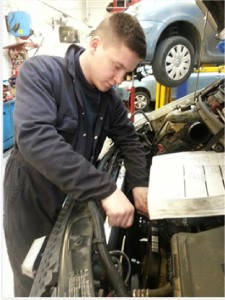 Lewis Clarke is a senior master technician at the county council's Coleshill workshop where he works on maintaining the council's fleet of vehicles. He is certainly not your typical council worker.
At just turned 19 years old, Lewis is one of our younger members of staff. He joined the county council in 2012 as an apprentice mechanic at the county fleet workshops.
But, despite being very much of apprentice age, Lewis has the persona of one much older.
First of all, there is the nickname: the inspector. For those of us who are of a certain age, it conjures images of mature, cerebral characters such as Morse, Poirot or even Blakey from On the Buses. But it's not a nickname you would normally associate with someone who was a teenager as recently as April.
The mature pseudonym is largely Lewis' own making, though. Despite having only started studying car mechanics at the age of 15, Lewis was recently accredited with the status of a master technician.
What does this mean? It means that Lewis can now not only carry out all servicing and maintenance of cars but is also able to diagnose faults to an advanced level. It is the result of three years of studying towards his NVQ Level3 in Mechanics as well as the support of his manager in applying for the accreditation.
The nickname slightly masks Lewis' achievement. The previous youngest known master technician to have qualified in the UK was 22, going on 23 years old. Lewis knocked a whopping three years off that record.
The future holds some changes in the way Lewis works as his skills increase. He currently works on the council's fleet including the gritters and school buses as well as private vehicles. Later this year, he will take an HGV license test after which he will work on Warwickshire Fire and Rescue Service's vehicles.
Lewis said: "I'm surprised how happy I have been at the council, having loved working in a private garage when I was 14. In this job, I do something different every day and with courses in HGV and welding coming up, I am learning something every day."
The last word goes to Lewis' manager, Alec Would, who said: "The Inspector is a shining example of the quality of worker that we have at the council. In that respect, he is the typical council worker."