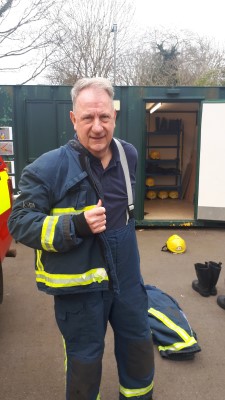 Tony is one of new candidates currently going through the on-call recruitment process with Warwickshire Fire and Rescue Service.
He has agreed to share his journey so far to give you an insight on what it's like to go through the on-call recruitment journey. Here's what he has to say:
"Well, who would have thought it? Of all the activities that I have taken part in throughout my life I think I may have saved the most fulfilling role till last as (hopefully) an on-call Firefighter!
"A casual conversation with my hairdresser Claire in Shipston (who is the partner of one of the crew members at Shipston Fire Station) made me aware how desperate the Fire and Rescue Service here in Shipston was for crew members. This certainly made me curious so that very Tuesday evening in October, which was drill night, I made my way to Shipston Fire Station.
"How welcome they made me feel! It was immediately obvious to me that here was a very keen, professional and enthusiastic squad that meets every Tuesday evening for 2-3 hours of theory and/or drill in the performance of certain simulated emergency scenarios.
"I have been asked to muck in on several occasions and, under supervision wearing PPE, I have run out hose-line and rolled up the hose after use and tried on a breathing apparatus set, to get a feel of what it would be like in the role.
"My learning curve is currently vertical, but I am soaking up information about firefighting like a sponge and I have been encouraged to ask questions of the team who have been only too pleased to impart their knowledge and experiences. I am beginning to slowly grasp the Firefighters' technical language and use of the many acronyms in the Service.
"There are, however, certain tests to pass before one can become a Firefighter. These are both physical strength tests and written tests involving standard numeracy and demonstration of understanding information provided. For me these take place in March of this year. This is the challenge I face since I do not have age on my side, but it has really given me a goal to aim at and what better reason to get me back in the gym three times a week knowing that one day I could possibly be involved collaboratively in saving a life!
"I am certainly working hard to give it my best shot to pass the tests and hopefully to proudly take my place alongside the crew at Shipston Fire Station, call sign FS34 Papa 1. So how about joining me on this journey?
"Your Fire Station needs you!"
Sign up for a free online information session here to learn more about on-call: https://www.eventbrite.co.uk/o/warwickshire-fire-and-rescue-service-33378119679 or email ffrecruitment@warwickshire.gov.uk.
If you would like to hear more from Tony, learn how he is doing and what he thinks about our awareness day, check back here next week and on our social media. We will be sharing more about his journey to becoming an on-call firefighter!