A message from Kieran Amos - current Chief Fire Officer
A message from Mark Ryder - Strategic Director for Communities
Dear candidate
Welcome, and thank you for your interest in the role of Chief Fire Officer.
This is an important time for Warwickshire County Council as we are still very much in the throes of responding to the COVID pandemic, proactively working on our recovery, and transforming the way we work and deliver our services.
Warwickshire has a very close, solution focused and collegiate feel, not least in the Senior Leadership Team, so team fit and a positive attitude are important to us.
The Chief Fire Officer plays a key role in the delivery of our County Council business, being part of our strategic leadership team.
The Chief Fire Officer leads our Fire and Rescue Service, creating a more inclusive and integrative culture, where everyone is working together to make Warwickshire the best it can be.
Clearly, we face challenges, along with other public sector organisations: climate change; economic recovery; increased pressures on public health and social care; increased demand for services and the levelling up in society to name but a few.
As an ambitious council we are working proactively to respond to these challenges, but we also recognise there are significant and exciting opportunities to help transform and improve our services. And our Fire and Rescue Service will play a pivotal role in this.
We have consistently managed a sound and sustainable medium-term financial plan but recognise that the future economic landscape is uncertain, it will present challenges and require us to be innovative and solution focused.
This is a fantastic opportunity to join an ambitious County Council, to lead a high performing and valued Fire and Rescue Service and contribute to the county's success. We anticipate that we will appoint a transformative leader, preferably with experience of local government. Equally important is an ability to demonstrate a mind-set that will give us confidence that you think creatively, implement effectively, deliver tangible benefits and behave with integrity. Our new Chief Fire Officer must be able to work collaboratively and have the ability to influence change, both internally and externally, as well as manage strategic partnerships.
We're proud of the care and service we deliver but know that to progress, we too have to adapt. We're determined to bring new ideas to the table, alongside what we already do well. It's an exciting time to be a part of our organisation and we are seeking the best possible leader for our Fire Service.
Could this be you?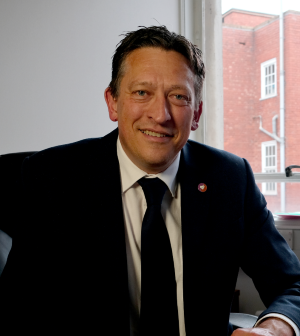 Mark Ryder
Strategic Director for Communities
Warwickshire County Council